---
MSP asks for inquiry into Scottish exam invigilators' pay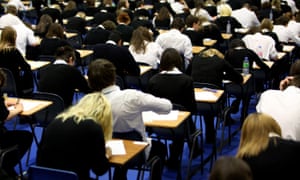 HM Revenue and Customs has been asked to investigate allegations that Scottish exam invigilators could be being paid less than the minimum wage.
Daniel Johnson, a Labour MSP, wrote to HMRC after invigilators complained their pay regularly left them earning below the £8.25 an hour national living wage and in the worst cases less than the minimum wage of £7.20.
Their complaints add to pressure on the Scottish Qualifications Authority (SQA) to increase pay for more than 6,500 invigilators, who receive fixed fees of £54.30 a day or £27.15 for each half-day, regardless of how long they work.
The SQA insists it complies with Scottish government policy that all public sector employees are paid the living wage, including its invigilators, and has guaranteed to the Scottish deputy first minister, John Swinney, that is the case.
But the SQA has now admitted it has no way of proving this is true. It has told the Poverty Alliance, the charity which oversees the Scotland government's living wage policy, it has no database or system to make sure individual invigilators are properly paid.
Peter Kelly, director of the Poverty Alliance, said the SQA had committed to introduce a "robust" system in time for next year's exam season, to monitor exact pay rates for each invigilator, some of whom are now being recruited.
"There was a very clear understanding that they need to improve the way that hours are monitored in order to be able to ensure the living wage is being paid for every hour worked," Kelly told the Guardian.
An investigation by the Guardian found last month that for many of the longer exams, particular for Higher and Advanced Higher modern languages and sciences, invigilators could receive an effective pay rate of £6 an hour.
Those exams can last up to three and a half hours, excluding the minimum 45 minutes needed to prepare an exam hall and then collate papers and tidy up afterwards.
The SQA fee would require each half-day session to last on average a maximum of three hours and 20 minutes, including preparation and clear-up time, to meet an hourly living wage rate of £8.25.
This year's exam timetable showed that 26 exams lasted at least three hours, excluding preparation and clear-up times. For any three-hour exam, invigilators would have to spend a maximum of 45 minutes on preparation or administration to earn the minimum wage.
Another 14 exams lasted two and a half hours, again excluding preparation and administration. In those cases, working for more than 45 minutes risked breaching the current living wage level.
Johnson, the MSP for Edinburgh South, said: "The SQA has been unable to prove all its invigilators are being paid above the living wage but conversations I have had with invigilators raise the possibility that many aren't being paid minimum wage levels either.
"It would be of grave concern to find out that any agency of the Scottish government or anyone paid from the public purse was paying below statutory wage levels set out under minimum wage legislation."
The first minister, Nicola Sturgeon, has told Scottish government departments and agencies to increase pay to meet a new living wage rate of £8.45 an hour from next year, increasing pressure on the SQA to revise its rates.
The SQA says it pays about £1.2m a year to invigilators but admitted it had not altered the set fee for invigilators since it was fixed in 2009. It said it was now reviewing its pay rates in light of next year's higher living wage figure.
"We are committed to ensuring the living wage is applied to all appointees in line with our status as a living wage employer," it said via a public relations agency.
It insists that over a full exam season, invigilators do receive the living wage because they will do a mix of shorter exams and longer exams, which evens out their effective hourly rate over time.
"In light of recent discussions, we are providing additional guidance to chief invigilators and invigilators to ensure the scheduling of exams sessions for individual invigilators is balanced across the examination period," the SQA added.
"We have also revised our claim forms for invigilators to assist chief invigilators in ensuring balance is achieved, or if invigilators feel it necessary to provide additional evidence to claim additional session fees where appropriate."
But Johnson said the SQA's stance raised questions about its "opaque" pay system and whether the terms of employment for invigilators breached other parts of the minimum wage legislation.
They are hired as appointees rather than as employees and are not paid by the hour, or guaranteed a set and equal rate over the entire exam system. The SQA system meant that if someone fell ill after working several very long exam sessions, they could end up penalised unfairly if they were unable to cover shorter exams.
Source:MSP asks for inquiry into Scottish exam invigilators' pay
happy wheel
---